Contact
ABOUT
KEY CHARACTERISTICS
BLVG Ontwikkeling Burton Hamfelt Urban Architecture
DESCRIPTION
IVY urban living in the heart of Noord.
157 apartments in the Klaprozenbuurt.
Amsterdam Noord already has it or is definitely getting it! Amsterdam-Noord is on the rise and that growth doesn't seem to stop for the time being. And where better to live than in the heart of Noord, on the Klaprozenweg? It is close to the city center, the A10 highway and the trendy NDSM terrain. This is the place for people who like to live in the city. This area is facing a major transformation in the coming years. There are ambitious plans and projects on the way, and one of them is IVY. Designed by Burton Hamfelt Urban Architecture, the IVY block will offer 157 apartments in different price ranges, from social rent to mid-rent and the free sector. There is something for everyone!
IVY will be on the corner of Klaprozenweg and Klimopweg. What used to be primarily an industrial area will soon change into a city neighborhood where one can not only live but also work. Klaprozenweg will become a bustling street featuring homes, stores and businesses.
Different types of housing
IVY is a building divisible into four buildings with a 42-meter high tower as a height accent: three apartment blocks and a block with a social function. At street level there will be commercial spaces with apartments above it from the 2nd to the 13th floor. The design of the building allows plenty of room for outdoor spaces at different levels. IVY will feature different types of housing: there are apartments available in the free sector, mid-rent and social rent. The 2- and 3-bedroom apartments in the free sector and medium rental are ideally suited for couples and small or young families who love city living. The social rental apartments are studios and ideal for young people who like to have their own place in Amsterdam. The balconies all face east, south or west and especially on the top floors you will have spectacular views of Amsterdam.
Amsterdam Noord is hot.
Amsterdam Noord is hot and it doesn't stop there. The city no longer stops at the IJ and more and more Amsterdammers know how to find Noord. This connection to the city will only get stronger in the coming years. The North-South line has ensured that you can be in the city center within minutes. But nowadays you don't even have to leave Noord for urban amenities and liveliness. From Overhoeks directly on the IJ to Buikslotermeer deep in Noord: it is bustling and alive!
Noord has its unique identity
Noord also remains Noord above all else. A place with room for creativity. A typical piece of Amsterdam with its own recognizable identity. Party for 24 hours in Shelter or the Tolhuistuin, swing on the roof of the A'dam tower with a breathtaking view or visit the cultural freebies on the NDSM terrain. Formerly a shipyard, today a place for artists and creatives. A neighborhood with a rough edge that has a lot to offer.
No shortage of greenery either. Take a walk or enjoy nice weather in the Noorderpark. The park has a central field where events are regularly organized and there is also a playground here, a paved tennis court, a rosary and several small lawns.
Interested in Ivy Amsterdam?
Construction has begun. Completion is scheduled for spring 2024. Interested in living in Ivy? Sign up now through the project website, so you will be kept informed of all developments, REGISTER HERE
More
Less
STAY UP TO DATE
INTERESTED IN THIS PROJECT?
CONTACTPERSOON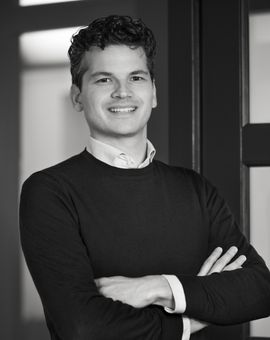 Simon Reesink
020 3050560simon@eefjevoogd.nl