Contact
ABOUT
DESCRIPTION
The Wing is now sold out.
The Wing is situated on a unique location, in between vibrant Schegpark and the leafy central neighborhood square. The shape of the building – a wing – creates a titillating dynamic between nature and architecture.
The Wing's communal garden is also located on Schegpark. Allowing every resident to enjoy this unique spot, overlooking EYE Film Museum and A'DAM Tower. Landscape architect Paul Plambeck of Buro Sant en Co was responsible for its magnificent design, showcasing a large, characteristic tree, several species of grasses and flowering plants, a path and a custom concrete seat.
The Wing is a versatile building with a wide variety of housing types. From 2-bedroom apartments to penthouses. All apartments have been sold.
Beautiful architecture
The Wing has a striking curve in the building. The architect chose this shape for a reason. The shape came from the location, on the Schegpark and overlooking the IJ. So you want to create as many views as possible. Bringing the outside in was the idea of Paul Stavert of Powerhouse Company. The horizontal lines emphasize the panache of the balconies, which playfully alternate between straight and rounded corners. In addition, the facade staggers, so that in certain places the balcony is extra deep.
The Wing has something Italian influences, through the use of natural stone in the facade, among other things, and that was exactly what the architect from Powerhouse had in mind.
Stylish entry
A building and place like this needs a stylish entry. And two entrances, to be able to guarantee peace and quiet to residents and visitors. The central halls are stylishly finished with white stucco walls, design lighting and wooden details. The walls will feature art, which will be painted especially for The Wing. The front doors of the apartments are located at the central vide. The vide is a beautiful eye-catcher, with a special light through the glass roof.
Unique view
Every apartment in The Wing has a balcony or roof terrace. And the higher you are, the larger the terraces. The design incorporates ample glass, so that you can really bring the outside in. The icing on the cake are the apartments and penthouses on the higher floors with panoramic views. Unique is the view of the 3- and 4-bedroom apartments on the Schegpark. Some of these apartments even look out onto EYE Film Museum and the IJ river!
More
Less
STAY UP TO DATE
SIGN UP FOR OUR NEWSLETTER
CONTACTPERSOON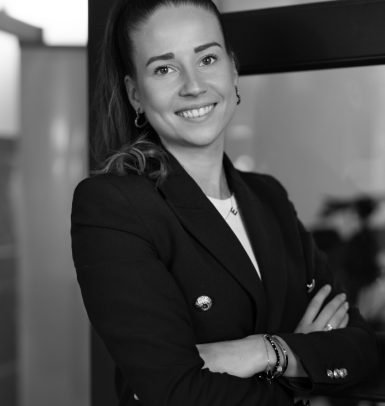 Pien
020 3050560